Abderrazal Benchaabane, Ethnobotanist & Garden Designer
Jeanette Lowdon gets up close with Abderrazzak Benchaabane, an Ethnobotanist & Morocco's leading Garden Designer. On a chilly Saturday morning in winter Lowdon had the fortuitous opportunity to interview Abderrazzak Benchaabane at his private estate in the Palmeraie of Marrakech. The setting was Abderrazzak's expansive gardens and contemporary museum located on one-hectare within the luxurious Marrakech palmerie.

Abderrazzak Benchaabane is a Marrakech legend. Quiet and soft spoken, this renowned Garden Designer, Ethnobotanist, Perfumer, Teacher, Photographer, Writer, Garden Restorer and Publisher has created a landmark place for himself within the world of the "red hamra" city. An academic who gained his doctorate in botanical ecology from Semlalia Faculty of Sciences at Marrakech's Cadi Ayyad University, Benchaabane is currently a Botany and Ecology professor at the University of Marrakech.
Jardins Du Maroc Magazine

Founder of the Jardins du Maroc Magazine (Gardens of Morocco) and the Festival Jardin'Art (Garden Art Festival) in Marrakech, Abderrazzak Benchaabane continues to have big dreams for his beloved Morocco. Both of which were created to give public awareness to the importance of the garden in life and for the education to the protection of their environment. His passion of giving back to Morocco and to teach the youth to respect and understand their land can be seen in his tireless efforts to create projects that educate and share his dream. "My passion is a spiritual project, not a business project," claims Benchaabane.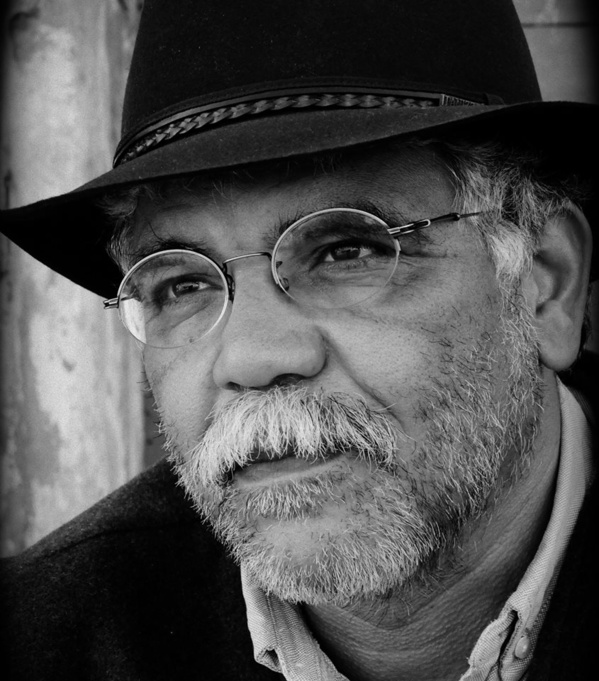 Abderrazak''s Intimate Maroc
A gifted photographer, Benchaabane left the big city behind and traveled the Sahara along with other desert regions of the world to capture the intense emotions born out of the silence only the desert can evoke. Since 1981 Abderrazzak Benchaabane's photographs have been featured in many expositions and galleries throughout Morocco and Europe. His photographs have been recently published in a book called "Intimate Morocco" and are on permanent display at the museum. Through his black and white photographs, Benchaabane shares his inside view of his country, Morocco, through his eyes. Each image echoes his roots of Morocco, evoking emotion-induced feelings of the love he has with his country.

Abderrazzak Benchaabane was approached in 1998 by Yves St. Laurent and Pierre Berger, the owners of the Majorelle Gardens in Marrakech, to survey the planting and to provide the Latin names of its plants. After cataloging 120 varieties of plants and careful inspection of the grounds Benchaabane then made a complete restoration of the gardens including a new system for irrigation and to honor its creator, Jacques Majorelle, Benchaabane added new varieties from Majorelle's chosen plant families raising the total varieties grown in the garden to 325. 10 years later the restoration was complete giving new life to the gardens. Benchaabane now acts as director of the charitable trust set up to protect the Majorelle Gardens.

Abderrazak Benchaabane, Creator of Perfume
Later in 2001 Yves St. Laurent requested Benchaabane to develop a perfume that represented the Majorelle Garden. As Benchaabane describes it, he went from "The Kingdom of Silence to the Kingdom of Fragrances." As a child he watched his mother teach his sisters the art of collecting, drying and preserving medicinal plants for traditional healing. His mother sometimes would say "the plants protect the body and move away the bad spirits."

The plants his mother collected were being gathered in the ceremonial way accompanied by traditional singing, then dried and placed in glass bottles. Some were preserved in their powder form and others preserved in honey or olive oil. His mothers inspirations led him to write a book on Moroccan medicinal and aromatic plants of the High Atlas Mountains.
The plant world his mother created intrigued him just as much as the souks in Marrakech. At the time the master herbalists and healers of traditional and medicinal medicine were in the Marrakech Medina. There one could find exotic spices, incense and resins from exotic countries and far off lands. Benchaabane's mentor in Botany taught him the role of the nose in the identification of plants, explaining that each plant has its own perfume.

In the majority of Moroccan gardens roses and oranges are grown and in every home a mixture of exotic spices that are brought from Mecca. Sandalwood, amber and musk are used as an incense in Mosques and for special occasions such as festivals, marriages and childbirth. From here, the journey began to create "Jardin Majorelle" fragrance.
Abderrazak Benchaabane, Creator of Soir De Marrakech

Benchaabane credits his knowledge and acumen for creating fragrances to Yves St. Laurent, Pierre Berger and Gilles Toledano. Later in 2001 seeing the success of Jardin Majorelle fragrance Yves St. Laurent encouraged Benchaabane to create his own perfume collection. His first fragrance in the collection called Soir de Marrakech is a blend of amber, musk, vanilla, patchouli, jasmine, orange and lemon flowers. Soir de Marrakech is the ultimate expression of life in Marrakech, says Benchaabane. His fragrance collection to date has now grown to 10. He describes the process as " Pure joy in creating my perfumes, sharing my dreams, emotions and love in a bottle. Just another facet of sharing the art of life here in Morocco!"

Once the restoration of Majorelle Gardens was completed Benchaabane decided to form the magazine Jardins Du Maroc to share his passions for the gardens of Morocco and around the world. The first issue published in 2005 was an immediate success. The magazine's primary objective is to introduce readers to the talents of Moroccan gardeners, landscapers, architects and to portray garden lovers, garden designers and artists. As the director and editor, the majority of the magazine contains contributions by him with features on both Moroccan gardens and gardens from around the world.

Festival Jardin'Art
Benchaabane wanted to offer something to Moroccans who cannot afford to purchase the magazine or who read French therefore in 2007 he created the Jardin'Art festival in Marrakech (Garden of Art Festival). Jardin'Art festival is held each spring in Marrakech under the patronage of Morocco's King Mohammed VI. The Jardin'Art attracts an increasing number of visitors and participants each year. Jardin'Art aims to bring together artists,landscapers,landscape architects,garden designers and growers along with booths dedicated to environmental education and Eco-tourism. There are also temporary gardens built by the children from local schools which encourages them to represent in their designs the sort of environments that surround them. By educating the younger generations, Benchaabane hopes to accomplish his mission to link the preservation of nature and the planet.

Musee de l'Art Marrakech
Recently opened is the Musee de l'Art (Museum of Art of Living) in Marrakech. The museum was created to fill a gap in cultural activities and offer new ongoing exhibitions for Moroccans as well as tourists. The goal is to continue to use the museum space to create cultural programs for the residents in the Medina and visitors to balance out the cultural divide that the Medina of Marrakech currently faces. Benchaabane feels by offering the youth a place for concerts, meetings with writers, seminars on art and poets it will help open the gap for new talent among young Marrakechi's.

Benchaabane's newest project combines art with nature at his Musee de la Palmeraie (Museum of the Palm). Since its opening in May 2011 the museum has attracted more than 3000 visitors worldwide. Located on a 150 year old restored French farm on one hectare outside the city of Marrakech is a museum and several majestic gardens. Musee de la Palmeraie is clearly dedicated to nature and art with its one-hundred year old mature palms, an Andalusian garden, a cactus garden, aquatic garden, perfumed rose garden, potager garden and sixty year old olive and orange orchards all dotted with local artisans sculptures and garden art.

Abderrazak Benchaabane, Palmeraie Gardens Marrakech
For the Andalusian Garden he took the natural divide in the orchards and created a water feature. He says "the water is like a mirror, reflecting the lite to the museum". An Andalusian and Saharan shaded seating area are set amongst the rose gardens, orchards, and Mediterranean aquatic garden with its Koi fish. The Andalusian area with its tiled steps and the Sahara area with its earthen piste wall calls one to come, rest and contemplate the serenity of this magical place.

The cactus garden was planted 10 years ago with 40 kinds of cactus from Morocco, South Africa, USA, South America and Mexico. All the locally grown cactus came from his mentor, a German engineer of Agriculture here in Morocco.

Within the converted stables and piste buildings on the property Benchaabane houses his private collection "unknown" Moroccan artists from the 1970's, a workshop area for children, a private collection of his own photographs, paintings, photographs, calligraphy and sculptures along with the permanent collection of contemporary art from more than 50 Moroccan artists. One special photograph worth seeing is Le Maroc en Noir et Blanc taken in 1981 in Essaouira.

In the museum boutique the money raised from the sales of books, some of them authored by him go to the childrens workshops that are held regularly at the museum for the nearby village children. The workshops are taught by artists and are free to the children. Benchaabane felt it was a way for the children to learn a craft near their home as some may not have the means to go the city for lessons.

A project due to open in the near future is Benchaabane's Ourika Valley Ecology farm. He has completed the 30,000 palm planting plan. His dream is to plant and create a space for children to learn about an ecology farm. "Too many children are growing up in cities and don't know a farm. The 3 hectare farm will be a living museum with a kitchen garden and saffron garden. On the farm there is an old house and an an old traditional argan oil press".

Asked what is the future for plant growers in Morocco: Benchaabane replied " The growers and designers are organizing themselves to introduce new varieties that have adapted to the climate changes using new technologies ". Fifteen years ago Benchaabane was the first one to introduce the dry garden to Morocco. Now he is teaching the growers what works best in a dry climate for garden design.
When asked what is the future is of Moroccan gardens he replied, "It is highly related to the implication of the state and the people. The state are the owners of the gardens and the mayors and municipalities need to do two things to preserve gardens "to organize and take care of the gardens of Morocco" and "to educate the people on the value of plants – especially the new generation."

For more information about Abderrazzak Benchaabane & The Majorelle Gardens

Discover The Best of Morocco - Travel Exploration
Travel Exploration specializes in Morocco Travel. We provide Tours and travel opportunities to Morocco for the independent traveler and tailor-made tours for families and groups with a distinctly unique flavor. From Morocco's Seven Imperial Cities, to the Magical Sahara Travel Exploration offers a captivating experience that will inspire you. At Travel Exploration we guarantee that you will discover the best of Morocco! Call Travel Exploration in the USA at 1 (800) 787-8806 or in Morocco 1 (212)618-88-26-81 and let's book a tour to Morocco for you today.
Abderrazzak Benchaabane, Abderrazzak Benchaabane Ethnobotanist, Abderrazzak Benchaabane Garden Designer, Jardins De Maroc, Majorelle Gardens, Palmeraie of Marrakech, Marrakech Garden Designer, Yves Saint Laurent, Soir De Marrakech, Morocco Tours, Morocco Travel, Travel Exploration, Travel to Morocco